Tenants' Liability Insurance
Even if Tenant Liability Insurance isn't a requirement of your tenancy agreement it's a great way to help protect against big security deposit deductions for accidents at home.
Our partners at Urban Jungle are a new type of online-only insurance business, focused on using tech to speed things up and saving you money as a result.
What is Tenants Liability Insurance?
If you're a tenant renting a property tenants liability insurance provides protection for accidental damage to the things that are provided by your landlord. This could include the landlord's furniture, fixtures and fittings, which under the terms of your tenancy agreement you might be liable for.
What is covered?
Urban Jungle Tenants' Liability Insurance covers your legal liability under a tenancy agreement if you accidentally cause damage to your landlord's furniture, fixture and fittings. It covers you for up to £5,000 (optional upgrade available to £10,000) and it may be a requirement of your tenancy agreement to ensure you have a sufficient level of cover.
Summary of cover
£5,000 accidental damage cover as standard
Upgrade your cover level to £10,000 (additional fee applies)
Six and twelve-month cover available
Includes furniture, fixtures and fittings
Covers everyone on the tenancy agreement
£100 excess
Simple claims process
No charge to make policy changes
For full terms and details of cover, please read the Policy Summary.
Please note that this product only covers your landlord's property, and not your own, and only covers the risk of accidental damage. The cover is also invalid if you leave the property unoccupied for more than 30 consecutive days.
How they compare
Urban Jungle is an online-only company who want to keep costs low, so they can pass those savings on to you. Check out how their prices compare*.
Urban Jungle compared the major UK providers of standalone tenants liability insurance: Urban Jungle, HomeLet, Rentguard, Intasure and LetAlliance.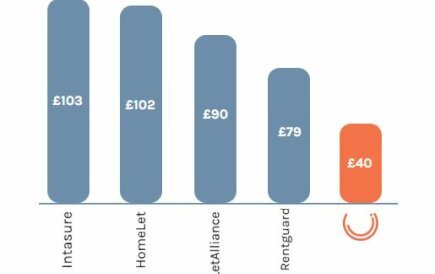 *The above prices are annual and were collected on the 15th January 2019. Some of these insurers only offer the option of paying in monthly instalments, and we've shown their yearly price in the graph for ease of comparison. Please note that Rentguard and Homelet prices are associated with a higher level of cover (£10,000), and Intasure is associated with lower (£4,000). Excesses vary across providers.
Interested in Tenant Liability Insurance?
If you're already completing a reference through Veri-Check its quite likely your agent has already opted in If your agent is part of the scheme then as part of the online application process you'll be given the option to get a quote at the end of your application.
Alternatively, you can find out more or apply online without completing a reference:

Apply Online